Devil's Marsh 1 is a level in Kid Chameleon. It is the first one to use the Swamp motive in the regular path (excluding Elsewhere 5).
Walkthrough
Edit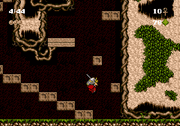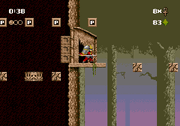 This level is linear for the most part, though very long. First, get
Red Stealth
or continue with
Iron Knight
; you'll need either of them to dig to the base of the tree (fig. 1). Dig further for the
P-block
below the
steel
stairs, containing a
clock
(there's lots of them, and you will use them). Now continue upwards jump up through
ghost blocks
, dig down again, etcetera. Along the way you will encounter three teleporters.
Now continue upwards, jumping (or climbing) through ghost blocks. Reach the top branch again and you will enter a small pit-like room with a Dragon and a teleporter to Elsewhere 6 (fig. 2). You can take it to skip the rest of this level. There is also a hidden clock here on the right, which helps you get up if you realize you don't want to take this path.
Otherwise, follow to the right, dig down again, go left, keep digging, and you'll finally reach the grassy base again (fig. 3). Follow to the right and up, and cross the bridge (fig. 4) to the opposite tree.
In this new tree, you can follow two paths: up the ghost blocks, or straight ahead. The first path leads to a tricky teleporter to The Caged Beasts (fig. 5), which is one of the two main secret paths in this stage and is a significant shortcut. The second option takes you to another teleporter that warps you outside the tree. From here (fig. 6), rush down for the flag.
Inside the ROM there's data of 20 enemies but the last Dragon is never loaded since in the header is assigned to load only 19.