Highwater Pass 1 is the third level in Kid Chameleon.
Walkthrough
Edit
Despite its winding nature, the path is almost entirely linear. The Berzerker helmet, which is located at the beginning of the level, is necessary in order to escape the starting room. Continue through the passage, picking up the Iron Knight helmet to scale walls when you must. Eventually, you will reach the top of the mountain, to the left of the flag.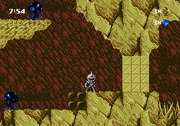 A wall constructed of ice blocks can be found at the top layer of the caves. Demolishing the wall using the Berzerker helmet will expose what appears to be a pointless pit of spikes, however, there is a hidden wall on the other side which conceals a secret alcove full of prize blocks.
Highwater Pass I is the first Mountain-themed level.
This level marks the first appearance of the Berzerker helmet. You will also encounter Tar Monsters for the first time.
Blocks that make their first appearances here include Ice blocks, Ghost blocks, and Shifting blocks.
Terrain types that are first witnessed here are spikes and hidden passages.
There are two coins in Highwater Pass 1 according to K-E, but in game the block which holds the second coin appears as an ordinary rock block. The block is located in a secret chamber.
Ad blocker interference detected!
Wikia is a free-to-use site that makes money from advertising. We have a modified experience for viewers using ad blockers

Wikia is not accessible if you've made further modifications. Remove the custom ad blocker rule(s) and the page will load as expected.