Highwater Pass 2 is the fourth level in Kid Chameleon.
Walkthrough
Edit
Stick to Berzerker if you're still wearing it from the previous level, or get Red Stealth at the beginning of the level, in the valley with the mushroom blocks. Continue to the right through the cave, descend to the next sublevel, go left and drop to the bottom. From this point, you can detour to the left and find another narrow grotto with a Maniaxe helmet. If you choose going to the right, opening the 'door' of Shooter blocks, you will be able to exit the level through the teleporter to Elsewhere 1 and then Under Skull Mountain 1, or the flag, not far to the right, direct to Skull Mountain.
In a nice touch, this is truly designed like the second of a two part level. Highwater Pass 1 is scaling the mountain, and this level is coming back down.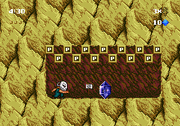 From the same place, walk to the left end and you will fall into a deeper, secret cave. Kill the Crystal guarding it, collect diamonds and helmets and take a teleporter back to the surface.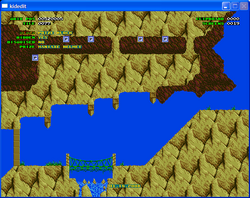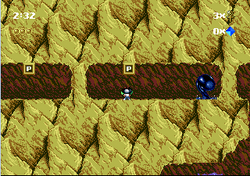 You can first witness Mushroom blocks in Highwater Pass II, and, though they appeared in the previous level, Shifting blocks can now be "shifted" for the first time.
K-E exposes four hidden blocks in this level the player cannot hit. Because of a bug, the player will miss them every time since the blocks are directly above the player's head. Three of the blocks are diamonds, and one is a Maniaxe helmet.