Hills of the Warrior 1 is a Hills-themed level in Kid Chameleon.
Walkthrough
Edit
For months, this level used to mean the end of my fun as a player. Thank God now i'm older and wiser i can give you the guide and counsel i never had when i was in your place. Three words for you, then: RUN LIKE FUCK.
A. Itsasoguren 22:20, 29 March 2008 (UTC)
---
The path is pretty obvious: just run and try to stay ahead of the Murder wall.
If you weren't doing so already, remember to keep the SPEED button pressed all the time. Don't even consider Maniaxe; you'll be needing a swift jumper like Red Stealth to survive, and you cannot waste any second killing enemies; let'em be! Every time you're given the chance, try the higher road; it's usually safer. Actually, at the very end of the level, you may find yourself in a dead end if you choose to go beneath the steel blocks — but you prolly found out about that already before reading this... :)
There is a very small chance that this level will crash on some cartridges. It sometimes happens when the music reaches the end of the song and it's about to loop over. Fortunately, unlike the occasional crash in The Final Marathon you can avoid it by completing the level before the music has a chance to loop over.
Oh, and relax when you get to the flag. This maybe the last time you're hearing that tune. Or is it?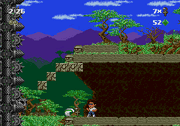 Hidden helmet: You can try a skater helmet on for the first time in the game. It will help you reach the flag faster and all Dragons and Tanks will think you're so cool when they see you dashing over the ruins in Hills of the Warrior 2. The helmet is hidden in a couple invisible prize blocks, along with an ankh, on the top left corner of a cave after the steps where you're riddled with bullets.
Once you get some practice in overrunning the spikewall, you'll be able to burst some prize blocks around, finding some interesting prizes. Clocks are welcome (give big points), and so is a coin above the last mushroom block.
This is the first Murder wall and Hills theme level in the game, and the only that can't be avoided by taking the right flags and teleporters (the other two can). You'll need to take the 100,000 points trip or a bridge to skip this one.
This is the first appearance of Skycutter and the Big Hopping Skull.
This is the only Murder wall level in the game with a 'part numeral' in its level name.