Hills of the Warrior 2 is a level in Kid Chameleon.
Walkthrough
Edit
There are three different ways to traverse this level. For the first, put on the Jason mask and trek along the hills, chopping dragon heads on your way. For the second, put on the horned helmet and go through the hills, destroying the rock walls in your path. The latter is best for finding valuable prizes in the corridors underground.
For the third way, climb onto those rock platforms above the startpoint, reach the top left one and find the hussar skull helmet. Now go for a tank ride to the flag, or just continue cruising the level jumping on the rock platforms.
Rock platforms end in a deep valley with a few enemies and a teleporter to Elsewhere 3. This is the quickest exit out of this level, and the most suitable if you mean to continue with Maniaxe. (Juggernaut is useless there.) For the flag, use any of those three elevaters on the right to reach an anteroom containing a Berzerker (if you can't enter it, use the shooters on the left), then smash the wall to higher room, and then another wall for the flag. A secret passage also opens in the wall separating the valley from this higher room.
In short, it is almost compulsory to use Berzerker to exit this level via flag. If you want to stick to your tank, restart the level, then use Berzerker to clear the way to the flag, turn around, get Juggernaut and turn around again and finish the level. It's a lot of work, and Juggernaut is not useful at all in Windy City, but hey: vehicle means respect.
(If it's Cyclone or Skycutter you mean to keep, use the teleporter.)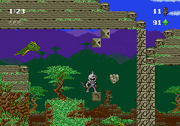 Check the little hill with an underground corridor sealed with rock blocks on both sides. Use Berzerker to smash the right end: the top middle block is actually a prize block in disguise containing an ankh.
In the room before the flag, there's some hidden mushrooms and shooters. Combine these to shoot open a way on the right rock wall, above the ceiling of the flag room. Explore that area for four hidden prizes — two of them are ankhs.
In this same room, one of the rock blocks is actually a hidden prize block containing a coin. It is in the left column, just above the original level of the mushroom block.