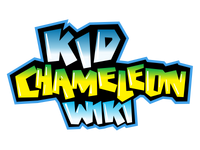 Welcome to Kid Chameleon Wiki
The comprehensive encyclopedia for Kid Chameleon
248 articles and 1,689 images uploaded since February 2008
Stage 1 • Stage 2 • Stage 3 • Stage 4
Big News
Check back later for updates on what the community will be doing in honor of Kid Chameleon's 25th anniversary, happening on May 28, 2017!
Featured Level
Isle of the Lion Lord the first boss in Kid Chameleon, that's what i thought 20 years ago, seem silly now. XD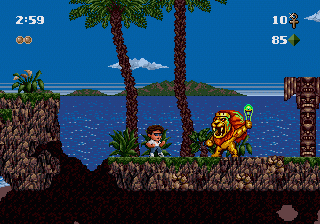 Isle of the Lion Lord
another famous
level
for it's secret
teleport
which brings you to
Elsewhere 8
. The portal is hidden on default same as hidden blocks you need to shams your head from underneath to reveal it's location. For more then 20 years everyone thought that it was only possible by using the
Cyclone
transformation. But recently
TheWinslinator
figured out it's also possible by using the
Berzerker
transformation. It's only a little tricky because there are no
Berzerker
Helmets
located in this level.
The 2
Lions
can be really annoying, right from the start the first
Lion
charge you and start shooting bouncing lightning bolts. These are the ones that get you killed, the best way to deal with that is to take them down. Unfortunately they have 6 hit points each, so you better be careful or be quick!
Prizes:
See Archive.
Featured Project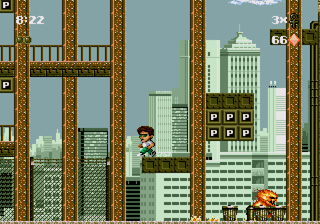 Designer: Drios1
Version: 1.3
Difficulty (1/10): 5
Time spent: 20+ Hours
Drios1 the newest member of the project page, who enters big with his first project Heady Metal's Revenge. In this project your going to see everything you would expect from an experience K-E user. A well thought out level design with in some some glimpse from the original level. These level can be quite challenging from time to time, but yeah. What would you else expect from a Kid Chameleon gamer. Despite the difficulty he is really fair with prices Ankhs, Coins and Diamonds with that you will get enough change to calmly explore each level to find more secret prizes. As form a new comer i am surprised to see there's also done Hex editing level names, type of enemies, new color palette's. Maybe one interesting thing to point out is, he is also using the unknown City theme which is in the ROM but never used in the original game. The last one new color palette's is something that really stands out on these projects, it always give you such cool gaming experience walking through these new levels. Now i haven't been playing this project that much, but i already have pretty good inside of what this project is going to be. A serious project with a good challenge from time to time. It's definitely something i would recommend to any Kid Chameleon gamer.
Download this patch. How to patch a ROM?
Agony Hike
Whildeside Woods 1
Agony Caldera 1
Helping Out
Forum Activity
Join the Chat>
New Pages
00 Pyro Projects • Drios1 Projects • Clawnoob Projects • Memes • ROM Address • Skarloey Ultimate Kid Chameleon • Tyadran Kid Chameleon X • Speedrunning • Skarloey100 Projects • Tyadran Projects • Projects
Wiki News
November 2013

August 2013

New bookmark icon, a prize block.
New Main-Page replaced whole layout.
There's a new forum for all your discussions.
Haagnus is promoted to administrator.

July 2013

The whole music list has been updated and available to download.

June 2013
News archive.
Monthly Poll
What is your preferred way to beat Kid Chameleon?
Submit your poll for next Month.
Poll Archive.
Random Image
Help adding content
Levels: Blizzard Mountain • Elsewhere 11 • Elsewhere 12 • Elsewhere 16 • Elsewhere 21 • Elsewhere 26 • Elsewhere 27 • Elsewhere 29 • Elsewhere 30 • Elsewhere 31 • Ice God's Vengeance • Lion's Den • Sky Fortress • The Black Pit
14 articles that want your attention.
Ad blocker interference detected!
Wikia is a free-to-use site that makes money from advertising. We have a modified experience for viewers using ad blockers

Wikia is not accessible if you've made further modifications. Remove the custom ad blocker rule(s) and the page will load as expected.