Ad blocker interference detected!
Wikia is a free-to-use site that makes money from advertising. We have a modified experience for viewers using ad blockers

Wikia is not accessible if you've made further modifications. Remove the custom ad blocker rule(s) and the page will load as expected.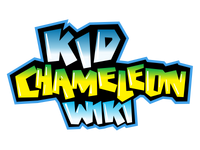 Welcome to Kid Chameleon Wiki
The comprehensive encyclopedia for Kid Chameleon
246 articles and 1,664 images uploaded since February 2008
Stage 1 • Stage 2 • Stage 3 • Stage 4
Big News
World record broken by TheWinslinator, Boom!
This kid had one day off of school and decided to play a game called Kid Chameleon. Why not, it's a fun peaceful game... *cough* Peaceful? Wake up! Go play Castle of Illusion.
It's a Non-TAS world record high score run with a total of 1,813,771 points! Most people won't make it till the end, let alone a high score run. On the page speedrunning he also document all other known records, as long there's some evidence of your run on the web you will be listed there, if you're good enough of course Mwahaha! he record this high speed run and posted it on his YouTube channel [1]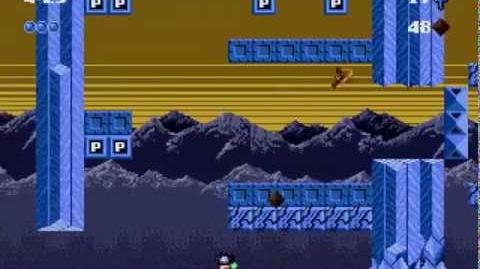 Well, thanks for such a great intro to this, Haagnus. I laughed at the Castle of Illusion joke XD
Hi, I'm
TheWinslinator
, currently 16 years old and holder of the new
Kid Chameleon
world record high score of 1,813,771 points. This is a great improvement from my first documented high score run, which totaled to only 1,525,951 points. I am very excited to have completed such an arduous task, in such a notoriously difficult game. I also hold the world record for the fastest completion of the game, via use of the
Plethora
cheat in 1:39.29. I have become the first person able to complete the game in under 1:40, or 100 seconds! I also hold multiple world records for games, such as Pac-Man World 2, Game & Watch Gallery 1-4, Mario & Sonic at the Olympic Games (DS), Mario & Sonic at the Olympic Winter Games (DS), and other various titles. The records for this game, however, have definitely been the most difficult at perfecting, and far surpasses all my other achievements in the other games listed above.
Let me tell ya, it's been quite a journey from first playing this game until now. I still remember when I first got this game on my Sega Smash Pack II nine years ago, and that first dragon in Blue Lake Woods I killed me XD Nine years later, on September 7, 2013, at 7:19 AM Eastern US time: the initialization of my long-anticipated high score run begins!!! But before one can just decide to do a high-score run, they must know exactly what they're doing, have a multitude of skills available for exploitation, and have a plan of action beforehand.
Realizing that this is like a news article, I can't go into that much depth into each of the levels and what I went through, but I'll give you a general idea. My first impression of this game was just based off the sheer difficulty that I immediately realized. I can remember all the times I spent in Blue Lake Woods II trying to figure out how to use the teleporter, and in Highwater Pass I, how the hell you get up that wall XD That took a while for me to figure out! It seems that like every other level has given me a Game Over screen at some point or another (Under Skull Mountain III, The Deadly Skyscrapers, The Valley of Life, Bloody Swamp, and especially the Final Marathon, to name a few). After nine years of having this game, it took me SIX YEARS to finally reach The Final Marathon, just to reach the anticipated Game Over screen. Next attempt, I lost 40 lives and got a Game Over. I repeated this process for days until finally I did it! Plethora seemed like a piece of cake compared to that... crazy linear hell.
So, it took me three years to get from first beating the game to getting world records. How did I do it? First step: inspiration. TheRandomPie_IV's Tool-Assisted Speedrun in 12:47 displayed an immense amount of skill that seemed unreal, and that just captured my attention of this game even further, and I set out to get really good. Second step: perspiration. You must get precision jumping skills down really good, as well as your hand-eye coordination/reaction time. if you want to improve your reflexes, practice playing some Nintendo Game & Watch titles. I've seen a miraculous improvement in mine after playing those! Third step: practice. Visit many of the hardest levels that force you to perform certain actions to get better at them. For precision jumping, visit The Pinnacle. Fourth step: research. Visit the Kid Chameleon wiki, which contains such a Plethora of information, that you'll drop dead by the time you're done (exaggerated a bit much? XD). And yes, this article that you're reading right now counts towards your research! Fifth step: blueprints. Print out a map of the Kid Chameleon levels and write notes about various things you should take into consideration for any record you're trying to accomplish (warning: symptoms such as these may indicate a severe Kid Chameleon addiction XD). Finally: make it happen! Remember that practice makes perfect, and if you believe that it can be done, well... it can be done!
December 20, 2012 is the earliest evidence I have of attempting a high-score run. It is now September 22, 2013. My skill level and knowledge-base for this game has astronomically increased since then, and if you put your mind to it, yours will, too!
Keep in mind that this score is liable to change in the future. I am constantly finding improvements to my runs, and if I find enough changes that could increase my total to 1,815,000+ points, I may post another high score video on that. However, I have a feeling that the number of improvements left to be found are limited, so I will have to be very strict in what times/scores I accept in that run, which means the amount of run-killer levels will increase -_- I could have waited to get this video out until I know I discovered everything, but I was just too impatient :) My final goal in Kid Chameleon is to max the score out as much as I can, and I will do it! >:D
And as always, Have a nice day!
TheWinslinator
Featured Level
Isle of the Lion Lord the first boss in Kid Chameleon, that's what i thought 20 years ago, seem silly now. XD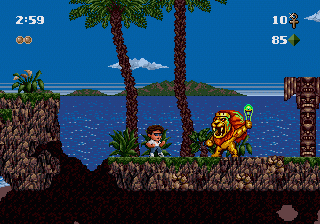 Isle of the Lion Lord
another famous
level
for it's secret
teleport
which brings you to
Elsewhere 8
. The portal is hidden on default same as hidden blocks you need to shams your head from underneath to reveal it's location. For more then 20 years everyone thought that it was only possible by using the
Cyclone
transformation. But recently
TheWinslinator
figured out it's also possible by using the
Berzerker
transformation. It's only a little tricky because there are no
Berzerker
Helmets
located in this level.
The 2
Lions
can be really annoying, right from the start the first
Lion
charge you and start shooting bouncing lightning bolts. These are the ones that get you killed, the best way to deal with that is to take them down. Unfortunately they have 6 hit points each, so you better be careful or be quick!
Prizes:
See Archive.
Featured Project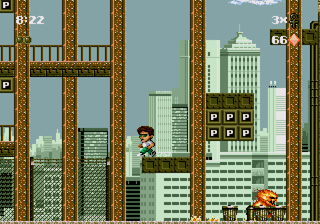 Designer: Drios1
Version: 1.3
Difficulty (1/10): 5
Time spent: 20+ Hours
Drios1 the newest member of the project page, who enters big with his first project Heady Metal's Revenge. In this project your going to see everything you would expect from an experience K-E user. A well thought out level design with in some some glimpse from the original level. These level can be quite challenging from time to time, but yeah. What would you else expect from a Kid Chameleon gamer. Despite the difficulty he is really fair with prices Ankhs, Coins and Diamonds with that you will get enough change to calmly explore each level to find more secret prizes. As form a new comer i am surprised to see there's also done Hex editing level names, type of enemies, new color palette's. Maybe one interesting thing to point out is, he is also using the unknown City theme which is in the ROM but never used in the original game. The last one new color palette's is something that really stands out on these projects, it always give you such cool gaming experience walking through these new levels. Now i haven't been playing this project that much, but i already have pretty good inside of what this project is going to be. A serious project with a good challenge from time to time. It's definitely something i would recommend to any Kid Chameleon gamer.
Download this patch. How to patch a ROM?
| | | |
| --- | --- | --- |
| | | |
| Agony Hike | Whildeside Woods 1 | Agony Caldera 1 |
Helping Out
Forum Activity
0
Kid Chameleon Wiki
Join the Chat>
New Pages
00 Pyro Projects • Drios1 Projects • Clawnoob Projects • Memes • ROM Address • Skarloey Ultimate Kid Chameleon • Tyadran Kid Chameleon X • Speedrunning • Skarloey100 Projects • Tyadran Projects • Projects
Wiki News
November 2013

August 2013

New bookmark icon, a prize block.
New Main-Page replaced whole layout.
There's a new forum for all your discussions.
Haagnus is promoted to administrator.

July 2013

The whole music list has been updated and available to download.

June 2013
News archive.
Monthly Poll
What is your favorite Elsewhere level?
Submit your poll for next Month.
Poll Archive.
Random Image
Help adding content
Levels: Blizzard Mountain • Elsewhere 11 • Elsewhere 12 • Elsewhere 16 • Elsewhere 21 • Elsewhere 26 • Elsewhere 27 • Elsewhere 29 • Elsewhere 30 • Elsewhere 31 • Ice God's Vengeance • Lion's Den • Sky Fortress • The Black Pit • The Nightmare Peaks 2 Themes: City • Ice • Woods • Island Enemies: Archer • Cloud • Mini Hopping Skull • UFO
23 articles that want your attention.