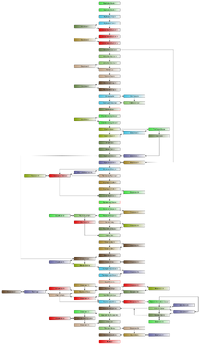 Kid Chameleon
is notable for its plethora of
levels
and teleporters back and forth. This map lists all 103 levels, describing all links via
flags
and
teleporters
. See also the
list of levels
for easy links to all levels. It is not possible to visit all of the levels in a single playthrough, since picking some levels excludes others. You may visit as few as 3 (with the
Plethora cheat
), or as many as 91, if you make extremely poor path choices.
Throughout this wiki as well as in this map, the game has been split into four stages. All stages end with a boss.
The map is designed so that one can easily see the shortest route by following a vertical line through the levels. Usually, flags are the safest exit to avoid unnecessary detours.
Flag paths are indicated as straight lines; teleporters are dashed lines. Click on a level to go to its article. Click on the bottom right i to see a bigger version.
---
Ad blocker interference detected!
Wikia is a free-to-use site that makes money from advertising. We have a modified experience for viewers using ad blockers

Wikia is not accessible if you've made further modifications. Remove the custom ad blocker rule(s) and the page will load as expected.