Secrets in the Rocks is a Mountain-themed level in Kid Chameleon.
Walkthrough
Edit
Above your starting point is a hidden prize block containing a Berzerker helmet. Grab it and smash through the wall. Head over the teleporter (it leads to Elsewhere 23) and pass the line of ice and drill blocks.
You will now come to a large drop with a number of single prize and rock blocks in mid air. Jump on to the first prize block and drop down to the first rock block. Directly above you is another hidden prize block containing a Micromax helmet. Grab it and head right to a maze of rock blocks. Work your way through the maze avoiding the drill blocks and you will find yourself in a passage way. Head up the passage way and drop off the cliff at the right and on to the flag.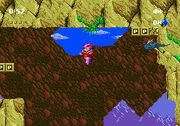 A Cyclone helmet can be found in the upper part of the level, which proves very useful for the next level, Ice God's Vengeance. Use Micromax to traverse the wall on the right. This can be tricky, but it is possible. The Cyclone helmet is in the Prize block on the right (the broken block on the picture).

Using the secret Cyclone also leads to a 10,000 point block at the very top left corner of the level.

To the right of the teleporter near the beginning of the level, there is a Prize Block on the floor. There is only one way to open it. You must exit Alien Twilight from the left teleporter. You will certainly have Red Stealth. If you enter through the other teleporter, you must immediately grab Berzerker. Now, you must navigate through the level and keep the samurai, and it is not extremely easy. Wind your way through to the area where this teleporter is, and you can finally open the block.
This level has 2 start positions, in the mountain, and above ground. Every source to this level leads to the inside of the mountain, apart from when you take the left-most teleporter in Alien Twilight.