This page is dedicated to the previous and recent projects of Kid Chameleon created by user Skar800.
Virtual Pandemic
Edit
This is Virtual Pandemic, Return to Wildside's successor and my current project. Unlike the afromentioned hack, there would a balanced difficult within the levels, just like the original game, though secret detours may be tougher than the regular levels. Also, the routes will be designed in order that everyone could achieve speedrun records, not just the best skilled people here. As an extra, I'll reuse some small elements from Ultimate Kid Chameleon and Return to Wildside.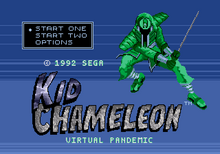 Here, I finally decided to release a
beta
.
Note: Level names aren't changed and they're only playable until "Sinister Sewers", winning that round will lead to a black screen. The same thing will happen when exiting from an Elsewhere accesible from "Hills of the Warrior 2".
And is strongly recommended to run it with Fusion emulator as it works best.
Ultimate Kid Chameleon
Edit

My very first hack of great production and the only one I managed to complete so far. Because I made it four years ago, the editions I made weren't so advanced. However, I believe many will find amusing the new platforms, the new palletes and minor changes about mechanics. Despite it's primitive, don't hesitate into giving this relic a try.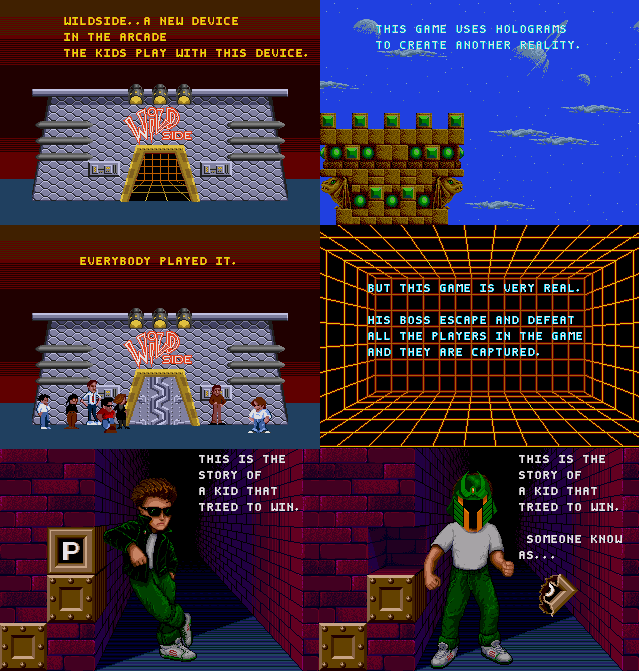 Haagnus If your an average gamer i recommend you to start with Ultimate Kid Chameleon. This is a fun and not too difficult project. Though there are some tough situations but these are good for practicing XD. Beside the change made with K-E it contains a lot of additional changes such as new: titles, music, enemies, backgrounds, color palette. These additional changes don't come easy, so i am excited to see this. Rating (8/10) on Version (1.0) --Haagnus (talk) 17:34, September 25, 2013 (UTC)
Skarloey Level
Edit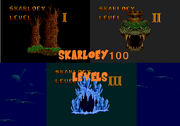 The "Skarloey Levels" are a series of single levels I made for having fun. Aditionally, I made them to test enemy alterations. There are only 4 individual ips patches. They don't require for anyone to have extraordinary skills in order to beat them, so you lose nothing with trying each one.
Level 1: [1]
Level 2: [2]
Level 3: [3]
Unnamed Level: [4]
Closed Projects
Edit
Kid Chameleon Return to Wildside Edit
This is a recent new project called Kid Chameleon Return to Wildside aka KCRtW, I started this project 12/14/13 and finish the first stage 01/10/14. I'm glad to announce that this project have a lot of changes and fixed something that you can see in the previous project called "Ultimate Kid Chameleon" or "UKC". As can be see in UKC, many levels have truly, the same desing of the original levels, but hopefully this will not happen again in this project. Another feature to highlight is that the difficult is more higher than UKC. I'll continue with the Stage 2. I hope that you guys can enjoy this Project.

Special Thanks to Drios1 - for his help with some ideas for Palletes.
+23 levels (Stage 3)
Both Stage 1 & 2 updated
New background, Murder Wall and Snowstorm stuff
And more!
I'd to say this update was a tough job. Since Stage 3 wasn't the main business - there was personal issues plus a lot of work on Stage 1 & 2. So Stage 4 would be next, however, it will take a lot of time sure, perhaps way longer than this cause other business, but anyway, I hope you people enjoy and also, if you wish, leave your review or what do you think about the project here.
Current Version
Edit
-Dear contributors, Kid Chameleon Return to Wildside was officialy closed due to a considerable lack of motivation to continue the last Stage 4 and the old capable K-E version which makes the work go VERY slow. Due to the big time-consuming it takes make every single level, it's been difficult to focus on both this project and personal matters.
I really apologize for all the people who were expecting this project to be completed, but the lack of ideas, the interference with personal matters and the fact that there's not a new version of K-E weren't really enough to make me abandon this project, until now.
Special Thanks to: Haagnus, Kitchengun, TheWinslinator, Drios1, Tyadran, Mudesi and Saxman727.
Also, Level Select can be accesed by hold press A+START before entering the Options to check the few made Stage 4 levels. Final Boss is also included.
-Skar800
Kid Chameleon Return to Wildside
Author editor:
Skar800
Current version:
4.0
Difficulty (1/10):
8
Time spent:
17 Hours
Maps stage 1:
Maps stage 2:
Maps stage 3:
Maps stage 4:
Download:
4.0 (Closed)
Stage 1
Hunt Preserve 1
Hunt Preserve 2
Descending The Hills
City Hall
Obscure Tunnels
Incahuasi
Infernal Realm 1
Infernal Realm 2
Infernal Realm 3
Lion's Empire
Predators Valley 1
Predators Valley 2
Shadow Monts
Storm Over The Lands
Of Predators and Prey***
Undead Marsh
Elsewhere 1
Elsewhere 2
Elsewhere 3
Elsewhere 4
Elsewhere 5
Stage 2
Diamonds Valley
Forest Of Wild Beings
Waterfall's Maze
Glacial Abyss
Mystic World 1
Mystic World 2
Mystic World 3
The Living Swamp
Sunsine Beach
Cursed Icebergs 1
Cursed Icebergs 2
Dunes of Chaos
Apokolips Isle 1
Apokolips Isle 2
Mummy Brothers***
Abandoned Arctic Shrine
Pits of Evermore
Genocide Center
Elsewhere 6
Elsewhere 7
Elsewhere 8
Elsewhere 9
Stage 3
Hunting Field 1
Hunting Field 2
Kingdom Of Darkness
Voltage Town
Olympus Rises
The Empire Strikes Back
Antarctic Gaols
Race Against Death
Deep Bog***
Raptor's Land
Bloody Skarlet
Aridon Temple
Ghost's Mire
The Twilight Zone 1
The Twilight Zone 2
Elsewhere 10
Elsewhere 11
Elsewhere 12
Elsewhere 13
Elsewhere 14
Elsewhere 15
Elsewhere 16
Elsewhere 17
Stage 4
Desert Conector
Swamp of Doom
Titan's Runes
Tremors at Height 1
Tremors at Height 2
Woods Corridor
Monsters Graveyard
E.T Fortress 1
E.T Fortress 2
Cold Warfare 1
Cold Warfare 2
Wildside's Endlines
The Armageddon***
Dark Permafrost
Mist Thicket
Phantom Labyrinth
Sand Spire
Azure Ascension
Cassandra's Palace
Creatures On The Depths
Siege of Fortress
Spectra Summits 1
Spectra Summits 2
The Sky's End
Elsewhere 18
Elsewhere 19
Elsewhere 20
Elsewhere 21
Elsewhere 22
Elsewhere 23
Elsewhere 24
Elsewhere 25
Elsewhere 26
Elsewhere 27
Elsewhere 28
Warning: There is a malfunction on the level "Kingdom of Darkness" from Stage 3, some telepads had wrong-coordinated exits and will take you into a red screen, as a result will crash the game and the only way to get out is by reset.
This will be fixed, however, for the next update 4.0
Kid Chameleon Hard Version Edit
This is a harder version that i work in the Stages 1 and 2 of KC and change the enemies's hit points or change some things.
Beta Version: [6]
Haagnus This map should be banned XD. I would give this an difficulty rate a 8 or 9 but when i was past the first level i could enjoy the game. Rating (8/10) on Version (1.0) --Haagnus (talk) 10:35, June 30, 2013 (UTC)
Ad blocker interference detected!
Wikia is a free-to-use site that makes money from advertising. We have a modified experience for viewers using ad blockers

Wikia is not accessible if you've made further modifications. Remove the custom ad blocker rule(s) and the page will load as expected.