Stormwalk Mountain is a Mountain-themed level in Kid Chameleon, and the last level of Stage 1.
Walkthrough
Edit
The fastest way through this level is to make your way from your starting point rightward all the way to the edge of the map. There, you will touch a shooter block on the floor which will break a rock block to the left, opening a way through the vine bridge. (If you get the Red Stealth helmet from a prize block near the beginning, you can just break your way down).
Once through the first vine bridge, simply work your way down through the holes in the subsequent vine bridges to the flag at the bottom right corner of the map. There is a Berzerker helmet in one of the prize blocks you can use to smash through to the flag, or use Red Stealth to break in from above.
There is not much in this level if you decide to take the scenic route, but since most of it is underground, you'll be safe from the storm. You can find Micromax, Berserker, Red Stealth, a clock, and several diamonds, as well as many enemies and death traps. While one might think that an out of the way, hard to reach prize block, accessible only through hidden blocks (of which there are many) would contain something more valuable than a diamond, one would be wrong.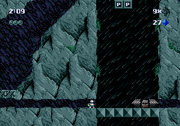 OK, there is one life in one of those blocks, which is worth to risk another life. (This is the kind of premise that only makes sense in a platformer.) In the chamber on the bottom left side of the level, there is a Micromax helmet and a Driller monster drilling through a crawlspace. Follow him. The tunnel leads to a chasm with an evanescent bridge and two solitary P-blocks on top. The one on the left is a tricky ankh to collect.
This is the only level in the game where you'll be able to find hidden Drill blocks.