The Deadly Skyscrapers is a City-themed level in Kid Chameleon.
Walkthrough
Edit
This level requires a lot of precision jumping. Start by jumping to the first steel platform to the right. Keep hopping rightward from steel platform to steel platform until you get to the shooter block platforms.
Eventually, you'll hop up to shifting block platforms. You have the option to go right or left. Going left is the way to the flag. Going right will give you some bonuses, but then you'll have to make your way back.
If you go right, you'll encounter a prize block with an ankh right in front of a lightning spitting cloud that may end up killing you. Taking the ice block platforms further rightward leads to a dead end with a bunch of diamonds (and another cloud).
Going left, be nimble and be quick as you jump from platform to platform. They will drop as soon as you touch them. When you reach the line of shooter blocks, run! Keep following the path until you reach the top of the building.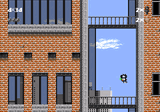 Breathe a sigh of relief as you enter the building, but don't get too comfortable. There are conveniently placed
spheres
in here, and having one hit point left doesn't help. There is a hole in the floor wherever you see a fire escape ladder. Work your way down them all the way to the flag. Be careful, because right before the flag is one final hole for you to die.
For this level there is an alternated theme color similar to Alien Twilight only a with a different palette. The palette is located inside the ROM but disabled for what reason?