The Shimmering Caves is an Ice-themed level in Kid Chameleon.
Walkthrough
Edit
This level has two different starting points: when accessed (from Elsewhere 27), it starts outside an area secluded by evanescent blocks, but if you die you'll start from the inside. Considering the much-needed Maniaxe helmet is one of the prize blocks in there, the level is easier after having lost a life.
At the end (with the two teleporters), take the one on the right. The one on the left leads to an incredibly hard dead-end Elsewhere.
If you're skilled enough to arrive here with Micromax intact, you can find several 10,000 point blocks on this level. Look for blocks that only he can destroy. Don't hesitate to use diamond powers; diamonds are plentiful.
The secrets here are similar to Beneath the Twisted Hills. If you have Micromax, there's again the 10,000 point blocks achievable only with Micromax. There's a total of 4 of these blocks.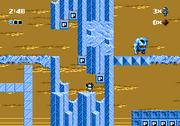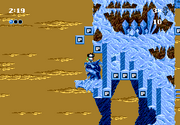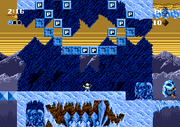 The first one is at the start of the level where you can't enter because the hole it's too small.
The second block is located above the Orca statue, where there's a Red Stealth helmet and a Continue.
And finally, the thirld and four blocks are located after you cross the pits of Vanishing blocks. There's many Prize blocks, the 10,000 are in the edges, so you need use Micromax.
The Shimmering Caves has an outrageous number of diamonds, making this level the winner for the most single diamond prizes, 10-diamond prizes, and total diamonds - 238 in all!
It also has the most prizes in general, a total of 135.
Although the armadillos on this stage have 2 hits to kill, if you bother to kill the ones at the bottom of the stage near the evanescent blocks, you will notice they require 3 hits to kill, and a much faster speed, much like the yellow armadillos in the previous level: Beneath the Twisted Hills.