Tunnels Beneath the Woods is a Woods-themed level in Kid Chameleon.
Walkthrough
Edit
A better name for this level would be "Traps Beneath the Woods". There are a lot of ways to get stuck and die in this level.
Start off by getting the Red Stealth helmet from the very first Prize block you encounter. Proceed right. At the far right is an Ankh but it's likely to get destroyed as you're on your way over there. Dodge the multiple Juggernaut helmets, as they are not really helpful in the underground part of the level due to their width. Drop down with Red Stealth into the third cavern from the bottom (fourth from the top) on the left side (a very narrow one, just three blocks high). The Steel block will drill you upon jumping on it, so you have to time your jump right. This path will lead you directly to the flag room in the bottom left. There it's best to start the chain reaction on the rightmost Shooter block and then run for cover below the steel blocks on the right side (with the Tank on them). But be aware that there will also be shooter projectiles coming from the right.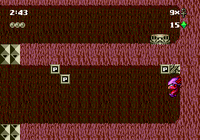 If you're short on hit points and lives it may be better to drop down the big shaft all the way to the bottom first. There, go right to the edge of the level. The prize blocks contain a
Cyclone
helmet and an ankh there. Then you can fly up to the
Teleporter
. It takes you to
Elsewhere 24
.
This level contains more Juggernaut helmets than any other, a total of eight.